5 Best Music Players for Motorola Devices
Last Updated on Mar 10, 2023
As one of the oldest smartphone brands, Motorola has been keeping on upgrading its device to bring users the best experience. Speaking of experience, the device comes with a default music player app that provides a seamless music-listening experience.
Motorola default music player is YouTube Music. This streaming music is free and offers smooth audio playback, however, it contains ads. To enjoy the ad-free service, you will have to pay for premium service. This is also one of the reasons people are looking for an alternative.
In this article, we will take an in-depth look at the top 5 best music player for Motorola and explore their features, benefits, and drawbacks. Whether you're a new Motorola user or a long-time fan, this guide will assist you in making out the most of your music-listening experience.
Top 5 Best Music Players for Motorola Devices
1. Lark Player

Security verified
Lark Player is a highly-rated multimedia player that allows users to play both videos and music on their Android devices free of charge. The app provides an intuitive user-interface with tons of features to enhance user's listening and viewing experience.
Here are most of its main features or advantages of using Lark Player:
The main displays is organized by songs, albums, artists and playlists. You will not have to spend time to learn on how to use it as it is very direct and simple.
Advanced audio quality and controls
Lark Player offers high-quality audio playback as it supports various range of audio formats. This player also provides a built-in equalizer that allows you to adjust the sound quality based on your liking. Additionally, it is equipped with a range of audio effects, i.e. bass boost, reverb, 3D sound, etc.
Manage and organize files easily
Other than user-friendly, Lark Player also allows you utilize it as a File Manager, meaning that you can create your own custom playlists, organize your media according to your preferences, and/or delete unnecessary or duplicate files.
This player supports high-quality video playback and offers features like gesture controls and subtitle supports, therefore, you can watch videos without interruptions.
For those of you who like to fall asleep while listening to music, Lark Player definitely works for you. The app offers a sleep timer feature that allows you to stop the playback after a certain amount of time.
Lark Player allows you to cast your media to a bigger screen, e.g. TV or computer monitor.
This player provides floating player features that allows you to play music or videos while using other apps. This is a very efficient feature.
Despite those features, here are the disadvantages of Lark Player:
May contain intrusive ads
Since Lark Player is completely free, you will have to bare on its occasional pop-up ads.
Some users have reported occasional crash while using the app.
In short, if you are looking for a free yet do not mind watching some video ads, Lark Player is one of the best music app for Motorola that is worth trying.
2. Poweramp
The second best music player is Poweramp. This player is know for its audio controls and playback capabilities as it supports extensive audio formats like MP3, WAV, FLAC, ACC, etc.
Here are the main features or advantages of using it:
Poweramp offers advanced library management elements that allow you to filter and sort your music based on any criteria, including genre, album, artists, and many more. You can also create a playlist according to your preferences.
This features allow you to edit the tag and metadata of your music directly within the app. For instance, if you found misspel word in the title, you can correct them instantly. This is not limited to misspel words, but you can edit anything that you want.
The app supports a range of audio effects, including stereo expansion, reverbaton, volume nomalization with 10-band equalizer, etc.
Poweramp offers a range of audio settings like gapless playback, crossfade, bass, etc to enhance your music experience.
Poweramp allows you to change the vibes of the app to suit your preference. It offers a range of themes to change the layout of the playback screen.
Despite those features, here are the disadvantages of Poweramp:
Poweramp may not compatible with all Android device. It requires a minimum of Android 5.0 to use and install it.
No cloud storage integration
Unlike Lark Player that support various sources, Poweramp does not support sycning from online source like Google Drive or OneCloud.
In order to enjoy all of the features, you will need a one-time purchase.
3. BlackPlayer
As it sound, BlackPlayer is designed with a dark themes and minimalist user-interface. Its customizable features are one of the most popular one as it allows users to tailor the app according to their preferences.
Here are the main features or advantages of using it:
BlackPlayer offers a range of customizable fonts and theme which allows you to personalize the app's interface to your liking.
The app offers a powerful library management which allows you to easily browser and manage your music files, search for a specific songs or albums, or create playlists.
Integrated with various music services
BlackPlayer allows you to sync music from various music services like Last.fm and Scrobble Droid to keep track of your listening habits.
BlackPlayer supports extensive playback features, including gapless playback, an equalizer with a variety of presets, and playback speed control.
Cons:
This is a free yet contain ads app. Sometimes, you might find it quite distracting.
No Built-in lyrics supported
Unlike the previous music players, BlackPlayer does not offer lyrics playing in the background.
4. Pulsar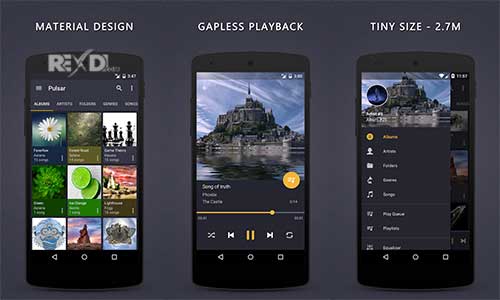 Pulsar is a free, straightforward and lightweight music player app for Android devices. It is known for its speed and ease of use as all the interface is modern and easy to navigate.
Here are the main features or advantages of using it:
Pulsar has a friendly user interface that is easy to move around, making it a great option for you who like simple yet straightforward music player.
This app is designed with an excellent music library manager that allows you to keep track on all our music file by organizing them or create playlist.
Featured various audio settings
Pulsar offers a variety of audio features, including audio playback like speed control, gapless playback, and crossfade. It also has a variety of equalizer preset that helps you to customize your sound.
Similar to Lark Player, Pulsar also allows you to edit the tag of the files.
Cons:
Just like BlackPlayer, Pulsar is a free app, but it is ad-supported.
Limited customizability
Even though Pulsar has a user-friendly interface, it is not as customizable as the other music player apps.
No built-in lyrics support
You will need to additionally install an app to view songs lyrics.
5. N7player
N7player is a feature-rich music player app for Android devices. It is known for its visually appealing interface and extensive features, including:
The audio compatibility offered is very wide. For instance, apart from the usual MP3, OGG or WAV, it also supports with ACC and FLAC.
As mentioned previously, N7player has visually appealing interface, which you can customize and organize according to your liking. This customization includes album art visualizations and themes.
The app allows you to create playlist according to your mood, which still can be edited upon creation.
Other than the features, here are the potential downsides:
Occasional bugs or glitches
Some users have reported occasional bugs or glitches while using the app.
The app may be free, but you will have to bare its frequent pop-up ads. Or else, pay the subscription fee to free from ads.
Final Thoughts
So, these are the best music players for Motorola devices. For a free one, you can choose Lark Player, BlackPlayer, Pulsar and n7Player. However, if you do mind paying some fee to enjoy its full feature, then Poweramp is the best choice.
However, if we really have to choose one among these players, we will choose Lark Player, as it is currently one of the hottest music player for Android devices. Even though it may contain some ads, but all the features provided are much more than the other players. The most important thing is, there is not hidden fee.
FAQ
1. Does Motorola have a music player?
Yes, Motorola devices usually come with a default music player pre-installed. However, its features and capabilities may be limited. Therefore, many people are looking for a  third-party music player apps that offer a wider range of features and customization options.
2. Where is my music on my Motorola phone?
The location of your music files on your Motorola phone may vary depending on where you saved them. By default, it is usually saved on your internal storage, in the Music folder exactly. However, if you have an external storage, you may check on it as well. 
3. What is the best music player for Motorola?
Best music player may vary according to your own needs and preferences. However, if we should recommend one, than Lark Player will be it. Read the details on the second section of this article.